The All Time Top 10 Minecraft Servers to Join
Published by Jack on September 02, 2021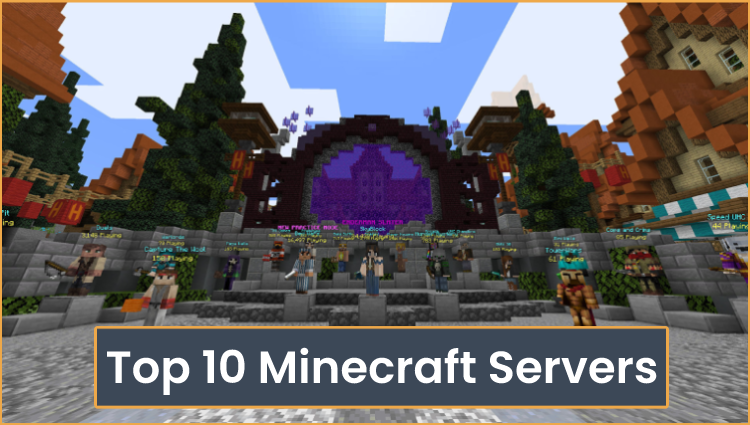 In the Minecraft video game, players create and break various blocks in three-dimensional worlds. There are two main modes in the game: Survival and Creative. In Survival mode, players have to find their building and food supplies as well as interact with moving creatures or block mobs.
Whereas, in Creative mode, players get supplies and do not depend on food for survival. They can immediately break all types of blocks. If you want to expand your horizons in Minecraft, then servers are the gateways.
It's very simple to join a Minecraft server. All a player needs to do is load up the Minecraft, choose multiplayer and add a server. Give it any name and then type or paste the IP address into the given box. Save and hit the play button.
Top Minecraft Servers
The ideas and work of players are immortalized in hundreds of servers. Every server has its own gameplay style, rules, and communities in a self-contained multiplayer world. Remember, some servers require the player to download the data for them to run the game correctly.
If, at any point, it fails, then quit downloading and keep trying. It will eventually work. Here is the Minecraft server list review that features breathtaking world vistas and constructions with the whole new game modes and rules.
1. VibeMC
This OP Faction server has been around since 2021 bringing players and the community a premium gaming experience.
The scale of the maps and player-vs-player combat is crazy. This server offers a 24/7 drop-party room, Flawless cannoning, active player base, and amazing staff team. Check this Minecraft server out!
IP: vibemc.me
2. Hypixel
It is a heavy server for mini-games. Among other regular games, there are also some noteworthy games as well. For example, Vampire Z, where being a human, the player has to survive while the vampires hunt him.
There is a very good racing game Turbo Kart Racers, that pits you against other players when you try to reach the finish line first. There is a lot of fun, and the Hypixel server is updated regularly, so it's worth adding it. Check this Minecraft server out at https://hypixel.net/
IP: mc.hypixel.net
3. Grand theft Minecraft
It brings on the PC, two of the biggest games together: Grand Theft Auto and Minecraft. No one is old enough to walk into the Game of mortar and brick to let loose on Los Santos with chums and Trevor.
With owning houses, shooting weapons, and evading pesky policeman, the player gets a fantastic recreation experience of the GTA here. It offers plenty of vehicles such as planes, cars, and tanks. All these features make it one of the best Minecraft servers. Check this Minecraft server out at https://www.brawl.com/front/
IP: mc-gtm.net
4. Brawl
Minecraft players who miss 'Call of Duty's shooting-bang-gang thrills, then Brawl is the best Minecraft server for them. It is the action-packed fun server that features your most-wanted FPS modes from 'Capturing the Flag' to the 'Man Standing'.
In fact, battle games like PUBG and Fortnight can partially trace their heritage back to the 'last man standing' Minecraft servers. This way player can repeatedly die with the feeling of being able to go back where it all started. Check this Minecraft server out at https://www.autcraft.com/
IP: brawl.com
5. Autcraft
This server is specifically designed for people who have autism. It is developed as a safe haven for people who want a break from overwhelming things that are found on other servers. Autcraft includes things that make sure that everything is child-friendly like no frightening.
To join the Autcraft server, the player has to apply. There is nothing special to do in terms of how to play, but it is very useful when you or any family member have autism. It is a safe place to play. Check this Minecraft server out at https://www.autcraft.com/
IP: mc.autcraft.com
6. HiveMC
Among the best and largest Minecraft servers, HiveMC server has something fun for the gamer. It covers all kinds of genres, from survival games to hide and seek. They are also coming up with mini-games and maps to create them. Check their website for the latest updates.
IP: play.hivemc.com
7. Mineplex
The largest Minecraft server that exists is Mineplex. It contains multiple zones and arenas for numerous game types. Mineplex is occupied by hundreds of players every time. With impressive detail making, Mineplex feels like a studio-like MMO.
Mineplex server has got painting, FPS games, and Smash Bros (in their own version). Mineplex can be your sole destination, especially to play Minekart. It is a block-like recreation of Mario Kart with karting, power-ups, and recreated tracks without the actual karts.
As compared to other typical violent games, it is very refreshing to play Minekart. The community of players and staff are great sports and ensure that people are always present whenever you play. Check this Minecraft server out at https://www.mineplex.com/home/
IP: us.mineplex.com or eu.mineplex.com
8. Minescape
RuneScape users can now level up their skills to 99 on this meticulously built Minecraft server. It is created in a way that gives a feel of one of the best free MMOs.
It took two years of remarkable work to bring the mobs, locations, and skills in RuneScape. Minecape is inspired by both RS3 and OSRS so that players of both sides enjoy playing the games.
IP: minescape.me
9. PixelmonCraft
Another best Minecraft server that provides Pixelmon mod based on famous Pokémon theme and offers multiplayer option. It is split over two servers: Johto and Kanto from the Nintendo games.
But the masterminds behind the PixelmonCraft server have faithfully recreated the towns and areas of the games and is replicated as much as possible. Pokémon has replaced the animals in Minecraft and are used in the battles.
There are pokémarts for shopping and gym leaders for fighting. PixelmonCraft has proved the blocky beauty of Minecraft and is a perfect place for Pokémon games you wanted. Check this Minecraft server out at https://www.pixelmoncraft.com/
IP: zero.minr.org
10. Pirate Craft
It is tricky to sail a ship in Minecraft, but in the Pirate Craft server, they make it work. You can sail your custom-built ships and blow up each other's ship with cannon.
The scale of the ships and ship-to-ship combat is impressive. There is no honor among pirate and thieves, so don't be surprised when someone hits the pirate ship with cannon.
IP: mc.piratemc.com
There you have it, the Best Server List for Minecraft game. That's what you were looking for. Right? Choose whatever you want and enjoy loads of free Minecraft games for hundreds of hours.