8 Ways to Get More Players On Your Minecraft Server
Published by Jack on October 23, 2021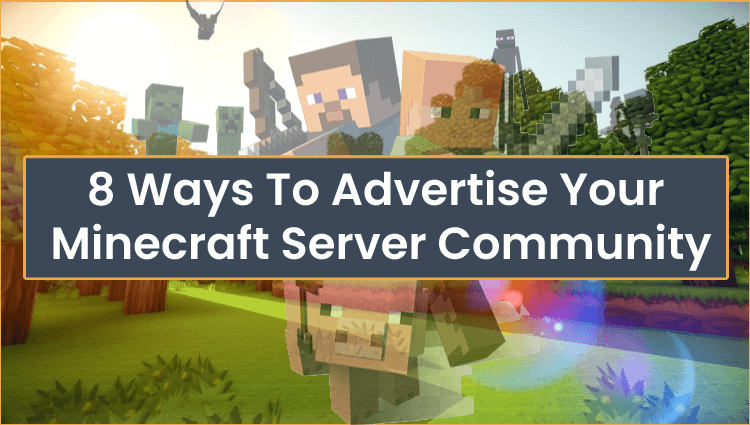 Minecraft is a game with almost no end. Minecraft servers provide players with an entirely new set of Minecraft worlds to explore, mine, and build in. No two Minecraft servers are ever the same because they are all built for different types of players. There are Minecraft servers that focus on farming or building specializations, Minecraft PVP (Player vs Player) or Minecraft SMP (Survival Multi-player). Some Minecraft servers run with particular mods while others feature custom plugins that give players access to additional abilities and functions. All of these variations create a diverse Minecraft environment where there's something for everyone regardless of skill level personal interests!
When you join a Minecraft server, the community that you are a part of becomes your Minecraft world. Minecraft servers rely on player retention to sustain themselves. If players leave, the Minecraft server is no longer populated and activity dwindles until it eventually dies out.
Server owners can grow their Minecraft community by advertising their server on external websites that feature multiple Minecraft servers or creating a website to attract players who share similar interests. There are several other strategies for increasing Minecraft player count including cross-promotion with other popular Minecraft servers and creating custom spawn maps and in-game location markers to provide new players with direction once they join your playable Minecraft world!
8 Methods of Minecraft Server Advertising (From Least to Most Expensive)
Minecraft servers are often stuck playing catch up thanks to larger communities. Not everyone who plays Minecraft spends their entire time online searching for Minecraft multiplayer servers, so it might make sense to include advertisements for your server on websites where players visit.
1. Add Your Server To The Best Minecraft Server Lists
One of the simplest Minecraft server advertising methods is to list your Minecraft community in a server directory. Minecraft server directories, or lists, are used by Minecraft players to find Minecraft servers, so it makes sense for server owners to list their Minecraft communities on the server directories that get the most visits. We make it very easy for you here on ServerTilt. Simply add your server in a matter of minutes. We recommend setting up the votifier to receive more attention and grow your community on our list.
2. Advertise on Discord
One of the communities' most common activities is to use Discord as a voice chat service while using Minecraft because it's easier than trying to manage TeamSpeak or Skype and has way more features & flexibility. Some Minecraft communities are now specializing in hosting Discord server hubs where people can find all kinds of different types of Minecraft servers and join the ones they like best. At ServerTilt, we have a Discord community (filled with both owners, players, and everything in between) where you can advertise for FREE. 
3. Promote your Minecraft Server in Real Life
I know this method may sound corny at first, but it is a very effective advertising strategy. The majority of people know about Minecraft and play it because it's such a fun and popular game. Telling them that you have a server and sending them the IP will for sure encourage them to hop on and check it out.
4. Post on Reddit
Minecraft has a subreddit with over 1 million subscribers, so you'll definitely want to post about your Minecraft server here. You can also try Minecraft-related reddits such as our very own. Here you can highlight your server and provide a description with links to your website.
5. Offer Incentives
Give out free virtual items such as gift cards or in-game ranks. Minecraft servers are extremely dedicated to providing fun Minecraft game-play experiences for their players. If you can offer players that extra reason to check out your server, they are sure to connect.
6. Creating YouTube Content
Minecraft has been around for over 15 years, and Minecraft YouTubers have become huge celebrities by showing their gameplay to the world. The more content you can make, the easier it will be to draw in new Minecraft players. Some Minecraft YouTubers make money off of creating Minecraft YouTube videos while other Minecraft Youtubers are only interested in providing entertainment for their community members as well. If you work hard enough at making Minecraft YouTube videos or streaming them on Twitch, you can grow your own Minecraft server player base with some effort and patience. We recommend creating a server trailer and publishing it to as many channels as possible.
7. Paid Ad Banners/Slots 
Minecraft Servers are extremely popular nowadays, and many Minecraft gamers are willing to spend money on Minecraft servers. Minecraft server owners can make a lot of money by renting ad space on their Minecraft DIscovery Server List page or Minecraft Server Hosting page .
8. Google Ads Campaign
You can even use tools like Google Ads to make sure your ad is displayed when a player searches for specific keywords related to your Minecraft community. For example, if you're running a Bukkit Minecraft server and you want more players from Europe, you could search for "Minecraft Europe" in Google Ads and include an advertisement with a link directing them directly to your Minecraft community's website.
Creating a Highly Engaged Community of Minecraft Players Summary:
These 8 methods can hopefully help propel your server to another level without breaking the bank.
Remember, ServerTilt is here to provide your community with the advertising resources it needs. With over a decade of experience in the online gaming community, our team understands the difficulty. Please reach out and check out our services. We want to partner with your server and give you high-quality exposure. Thank you for reading, and good luck getting those players!