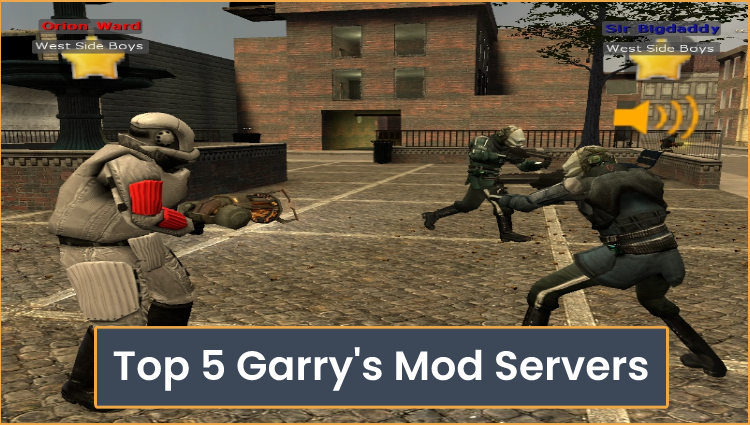 ---
You have the choice to join thousands of distinctive servers and utilize their comprehensive server browser in Garry's Mod. While this browser is effective, you may not always discover the finest servers. Players at ServerTilt have compiled a list of the best Garry's Mod servers by voting for their favorite communities and having them ranked in order by popularity.
Our Favorite Gmod Servers
In this list of top servers, you will find a variety of servers from across the web. These servers offer a variety of different game modes, ranging from Prop Hunt to DarkRP.
1.   GFL Zombie Survival
This server in particular is great if you want to play with a lot of people, in fact, up to 100 but not 100 other people. This server also includes a point shop and adventure maps made for Zombie Survival. A good large medium-sized server for one of the best Game Modes to play during spooky time.
What's awesome about this server?
Zombie Survival has always been a great time. Play as different zombies and climb those props!

Fun and friendly enough server. Had a few laughs while hunting people down.
2.   GarnetGaming.net Murder
Garnet Gaming's Prop Hunt server is both complex and super simple. Imagine, construct, all the time. The most basic map ever, while the server has a leveling system and crate system. Truly, we live in the future of gaming.
What's awesome about this server?
Gm_Construct is the only map you ever need to play. And it's the last map you'll ever again.

Leveling system brings a new twist to a great older game mode.

Hurray! My crate addiction is slowly becoming more and more of a problem!
3.   Swamp Cinema
Formerly Cereal Box, Swamp Cinema is literally the Swamp of all servers. Period. Bots that play crazy music and sound clips. People killing you for no reason. Seriously, this server is an experience, and its something everyone needs to check out. There are so many add-ons and extras to this cinema server; it might as well be its own game mode. This server is a great way to end a night or to waste time on a lazy afternoon. Just, watch out for people saying adult films are playing in a certain theater; they just want to kill you with a suicide bomb.
What's awesome about this server?
Mini-golf, a knife pit, several server screening rooms, and a moon base.

An awesome server is full of great experiences. Just don't go into the sewers.

Totally customizable player models… well if you like ponies that is. Then it's just kind of customizable.
4.   SBS HogWarts RP
Mister Potter, is that a gravity gun? HogWarts RP is another game mode taking over the Garrys Mod role-playing scene. Its a fun time, but the mods dont really like it when you kill everyone in Gryffindor. Also, you can run into the woods and find evil stuff to kill… or be killed by. Its a great time.
What's awesome about this server?
Interesting role-playing server with some really diehard RP community members.

Teach a class over potions, or watch a 9-year-old try to teach a class about drinking blood. (Yea, that happened to me).

This is your only chance to join Hufflepuff. Don't squander this opportunity.
5.   DCDeathRunners
Death run can be a crazy game mode. One minute youre the king of the world, the next youre more dead than Garrys Mod's Life punch servers. (Too soon). This server has all the fixings: Jukebox, Knives, Autojump and even vamping. Its a millennials dream!
What's awesome about this server?
Deathrun is one of my favorite chill game modes. It takes death and killing; and makes its chilling.

Knives and Vapes help you improve your swagger while you die to that patch of explosive crabby patties.

Auto jump is a must for any game mode with bunny hopping.
Gmod Communities Closing Remarks
Finding a good Garry's Mod server can be hard work. You never know if the admins are good, and you don't want to waste your time on a bad one.

We've created this list of great Garry's Mod servers so that you can find the best ones with ease! This list is updated daily by our team of experts who have been playing since 2006. Our goal is to provide an easy way for new players to find their ideal server without wasting hours searching through all the poorly maintained lists out there.

With our platform, we save people tons of time because they can search through our database for exactly what they want in just seconds instead of hours or days like it used to take before we made this product available online. Now finding a great GMod Server has never been easier!

 


Published by Jack on March 05, 2022